09 oktober 2017
Oecumenische verklaring van Lampedusa
'Living and witnessing the border'. Begin oktober vond in Palermo op Sicilië onder deze titel een conferentie plaats van de Churches' Commission for Migrants in Europe, de Conference of European Churches en de Italiaanse Federatie van Protestantse Kerken (FCEI). Aansluitend herdachten de deelnemers op Lampedusa de scheepsramp die daar op 3 oktober 2013 aan 368 vluchtelingen het leven kostte.
Bij die gelegenheid werd de volgende (Engelstalige) verklaring uitgebracht, waarin onder meer de Europese regeringen worden opgeroepen om 'safe passages' en 'humanitarian corridors' in te stellen. Wij worden herinnerd aan de boodschap vanuit het Evangelie, dat migranten en vluchtelingen die bij ons wonen fundamentele rechten hebben, die niet omwille van onze nationale belangen mogen worden beperkt of ontkend. De kerken worden opgeroepen bij autoriteiten en regeringen aan te dringen op een humaner vluchtelingenbeleid en op "het bouwen van bruggen als instrumenten van solidariteit en tekens van hoop".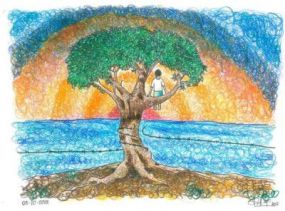 Lampedusa Ecumenical Statement
 from the International Conference "Living and witnessing the border"
30 September – 3 October 2017
We are Christians of different traditions from Europe and the United States meeting in Palermo from 30 September to 2 October to reaffirm our commitment to welcoming migrants and asylum seekers. Catholics, Orthodox and Protestants, we have ecumenically carried out reception activities, taking into account the concerns and proposals made by experts and civil society representatives who have contributed to our debate.
On 3 October, we will go to Lampedusa to remember the victims of the 3 October 2013 shipwreck where 368 migrants perished a few nautical miles from the coast. After the conclusion of these meetings and commemoration, we will return to our churches and ecumenical entities in which we are engaged and make the following plea:
Sisters and brothers, we should always remember that protecting and welcoming migrants and refugees is at the centre of our faith in Christ, and these values are the core Christian message that we are being called upon to proclaim. We should remember that according to the gospel message that nourishes our faith, migrants and refugees who live among us have fundamental rights that cannot be restricted or denied for our benefit or in the name of our national interests.
We should recall that every wall that separates us from our neighbour and stops those who flee from persecution and violence, takes us away from the love of the Lord and our vocation to welcome and protect. Brothers and sisters, we renew our commitment to provide places of welcome and safety, offer aid and hope so that people can rebuild their lives after suffering the wounds of war, persecution and hunger. We also invite migrants to bring their gifts, experiences and voices to make our churches more open and caring for all.
This is why we oppose any policy of closure or change of the borders to prevent or deny access to men, women and children who would be entitled to international protection.
We now appeal to our governments and international institutions to ensure safe passages and humanitarian corridors for refugees, asylum seekers and those living at risk or under conditions of vulnerability.
We ask those who are political decision makers to become further aware of new economic, political, military and environmental factors that push people to flee towards more stable and wealthy countries, and to ensure a humane and more inclusive interpretation of the right to international protection and asylum.
We express our support for policies of stabilisation and economic support to countries that today are unable to guarantee the survival and growth of many of their citizens.
We wish to call on our churches to reach out to governments and authorities to implement more humane and open policies for the refugees, to build bridges as instruments of solidarity and signs of hope. This is why we call on the help of the Lord to support us in serving our neighbour who is knocking on our borders.
Meer informatie:
The
Conference of European Churches
(CEC) is a fellowship of some 114 Orthodox, Protestant, Anglican and Old Catholic Churches from all countries of Europe, plus 40 National Councils of Churches and Organisations in Partnership. CEC was founded in 1959. It has offices in Brussels and Strasbourg.
Lees ook: 
20-06-16
  Oecumenische conferentie 'Have no Fear'
29-06-15
  'Veilig naar Europa vluchten: dat moet kunnen'